How do I know if my vehicle qualifies as low emissions?
Your vehicle qualifies if it is on the following list. Please note: only those vehicles listed under the "Elite" tab qualify for an LEV parking decal.
How do I get an LEV sticker?
Please email a copy of your vehicle registration and your ND ID card to green@nd.edu.
Please include the following:
The make and model of your vehicle
A return campus address
Your ND ID number if it is not visible on the copy of the ID.
Upon receipt and verification of your information the Office of Sustainability will send you an LEV sticker.
Where are the preferred parking spots located?
Vehicle owners may park in LEV spaces located in their assigned lots. Vehicles must have clearance for a particular parking lot before they can utilize the LEV spaces in that lot. You can find preferred spots in the Walsh Architecture Hall lot, Stadium Lot, Joyce Lot, Bookstore Faculty/Staff Lot, Grace Lot, Innovation Park Lot, Grotto Lot, Stayer Lot, Compton Lot, and the St. Liam lot.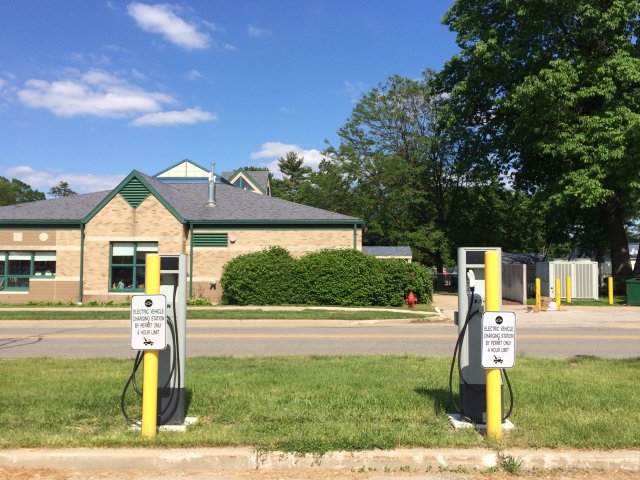 Electric Vehicle Charging Program
Notre Dame has installed four electric vehicle charging stations on campus available to university staff, faculty, and students. The stations, paired in the Joyce Lot near lamppost 14 and on the east side of the library lot near Leahy Drive, provide electricity to charge fully electric as well as hybrid plug-in vehicles.
What is required to get EV parking pass?
A valid Notre Dame parking permit and ID is required to receive a special parking permit, and charging sessions are limited to four hours so that all members of the campus community are provided a chance to charge. For the 2021-22 academic year, we are waiving the expense of the EV parking decal.
How do I apply for a permit?
When applying for a new or renewing of your EV parking decal, please email the following information to the Office of Sustainability:
A scanned copy of your vehicle registration.

A scanned copy of your Notre Dame ID.

Your campus mailing address (if you do not have a campus mailing address, please include an off-campus mailing address in which we can send your parking decal to you via USPS).
Once your documentation has been processed, we will return your 2021-22 EV parking decal to you.
How do I get a visitor EV charging pass?
Temporary passes can be obtained at the Morris Inn, from NDSP in Hammes Mowbray Hall or from the Office of Sustainability in Brownson Hall. There is no charge for temporary passes.