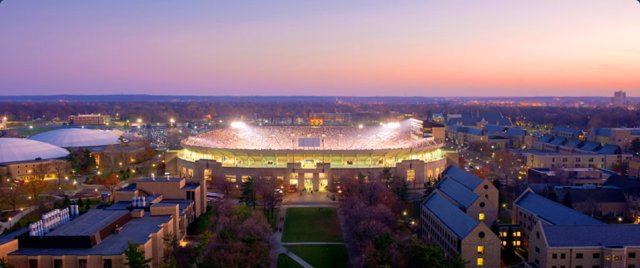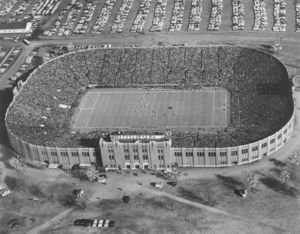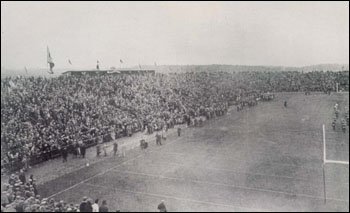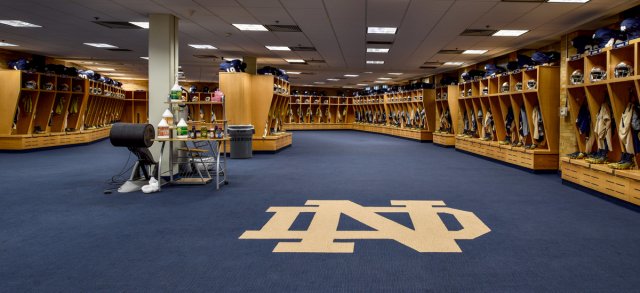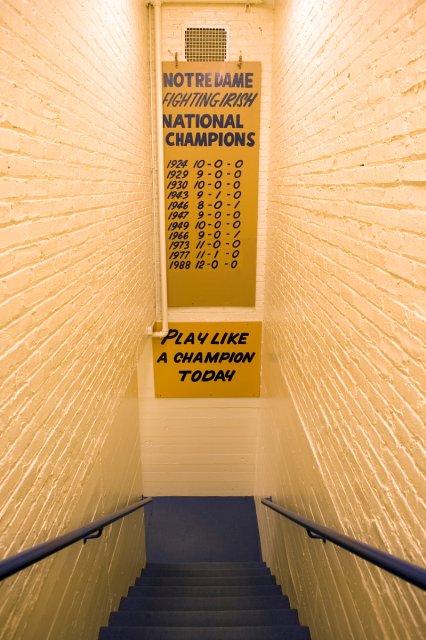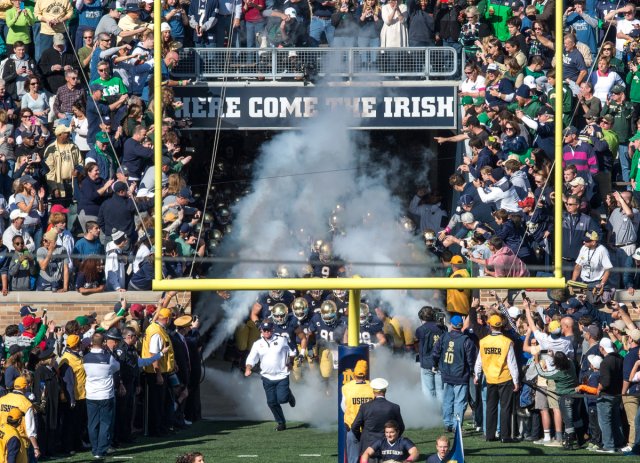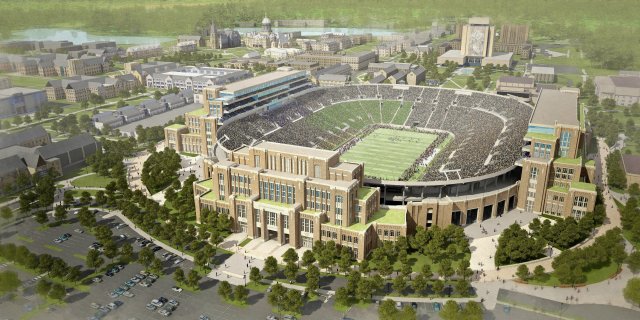 Notre Dame Stadium is one of the most iconic stadiums in all of sports. Built in 1930, the "House that Rockne Built" has held many of the most exciting games in the history of college sports. The stadium has undergone many renovations over the last 2 decades, including the Campus Crossroads project, a $500 million expansion project that broke ground November 2014.
The football team played its first games, beginning in 1887, on Cartier Field, just north of the current location of the stadium.
Knute Rockne played football for the Irish until graduating in 1914, after which he worked as a lab assistant for Father Julius Nieuwland in polymer chemistry. In 1918, Rockne was offered the head coaching job at Notre Dame. Rockne led the Fighting Irish to 3 national championships and 5 undefeated seasons.
As the team succeeded and ticket sales skyrocketed, Rockne pleaded for the construction of a new stadium. After being turned down by university president Fr. Charles O'Donnell, C.S.C., Rockne handed in his resignation letter. O'Donnell subsequently gave in and worked out a plan to finance the new stadium. On October 4, 1930, the Irish played their first game at the stadium, beating SMU 20-14. The original stadium had a seating capacity of 54,000.
Over the years, Notre Dame has gone on to become one of the most successful programs in college football, with 11 consensus national championships, 7 Heisman trophy winners, 97 consensus All-Americans and 50 members of the College Football Hall of Fame. The Fighting Irish hold the highest winning percentage of any team in college football.
Notre Dame Stadium underwent little renovation until recently. In 1996, the stadium underwent a $50 million renovation, adding 21,000 seats. Over the summer of 2014, the stadium's natural grass was replaced with FieldTurf. In November of 2014, construction commenced on the Campus Crossroads Project, a $500 million renovation that will bring teaching, research, and performance space to the stadium, including a new student center, in order to infuse life into this iconic landmark every day of the year.
Cartier Field, home of the Fighting Irish until 1930s, depicted here in the 1920s.
The Notre Dame locker room
In 1986, head coach Lou Holtz came across a photo in a Notre Dame book with the "Play Like A Champion Today" sign. He had a sign painted and placed between the Notre Dame locker room and the tunnel to the field. It has become tradition for players to touch the sign before running onto the field.
Above is a sign listing Notre Dame's 11 consensus national championships.
The football team rushing onto the field before a game at Notre Dame Stadium.
The design for the Campus Crossroads project, currently under construction.